Complete The Look With DekkRAIL
DuxxBak® Composite Decking
DekkRAIL is compatible with each of our decking products. You can get creative with different colors and unique style options! DekkRAIL comes in easy to install kits that include all the necessary pieces so you can rest assured that you have what you need.
Quick and easy installation
Download Kit diagrams
Same earth-friendly patented formula as I.Dekk™
Contains no wood flour unlike our wood composite competitors
Will do an 8′ clear span
Railing has a flat, beverage-friendly surface
Baluster Pro Clips are available for use of aluminum spindles.
Limited lifetime warranty
Available in all four colors: Cedar, Driftwood, Mahogany, and Walnut
Be sure to use our 6″ x 6″ or 4″ x 4″ post sleeves to cover structural posts for a finished look.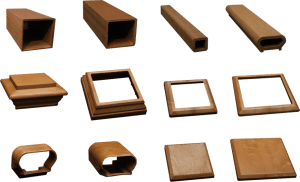 COLORS




DekkRAIL railing system is available in eight railing kit types:
Click here to download more information on the kits.
 Standard Railing: 36" & 42" height
– GeoRail is available in 6' and 8' lengths
 Stair Railing: 36" & 42" height
– Available in 6' and 8' lengths
 Individual components are also available to create custom designs and applications.
The complete DekkRAIL railing system includes post sleeves, railings, balusters, end caps, post caps, post base trim, and handrail collars — everything needed to create a great-looking railing around your deck.
Since DekkRAIL is made from a combination of reclaimed paper by-product, rice hulls (a rapidly renewable resource), and other high-quality materials, its properties differ from those of wood products. Therefore, DekkRAIL has different handling and installation requirements, which need to be taken into consideration during the planning of your deck installation.
Baluster Pro Clips
Baluster pro clips are a great way to create custom railing designs. The baluster pro clips are engineered for quick and easy installation. Unlike many of our competitors, no screws are needed for the baluster pro clip installation. You simply use DekkRAIL's pre-routered railing and the clip style you need, and the clips are engineered so that they can be inserted into the railing quickly and efficiently. The baluster pro clips are available for standard square and round aluminum balusters or DekkRAIL's color complementing 2" x 2" balusters. In addition, the baluster pro clips are available for hand rail or stair rail applications. Aluminum balusters are readily available at many building supply stores.
Finding a Vendor that you can consider a true Partner is rare, but DuxxBak Composite Decking is that Vendor!  Our relationship with DuxxBak is nothing if not special.  Jerry and his team are friendly, professional and the most helpful people that I deal with.  Their products are high quality, competitively priced and they always ship on time!  During this time of inventory outages and long lead times, DuxxBak has always had product ready to ship and this has increased our market share from our competitors.

Their innovative line of products sells themselves and DuxxBak has remedied the issues with composite decking on many fronts! I hold DuxxBak in high esteem as a vendor, but the most important thing is our relationship as friends.
Just wanted to put in a word on the benefits of the Duxxbak decking. It's unique design gives us the capability to offer our customers a dry space under their deck and is much more cost-effective than purchasing and installing a separate under deck system. Additionally,  it is easy to install, colorfast, attractive and gives a solid floor with no visible fasteners. Couple that with one of the best warranties in the business and you have a product that practically sells itself.